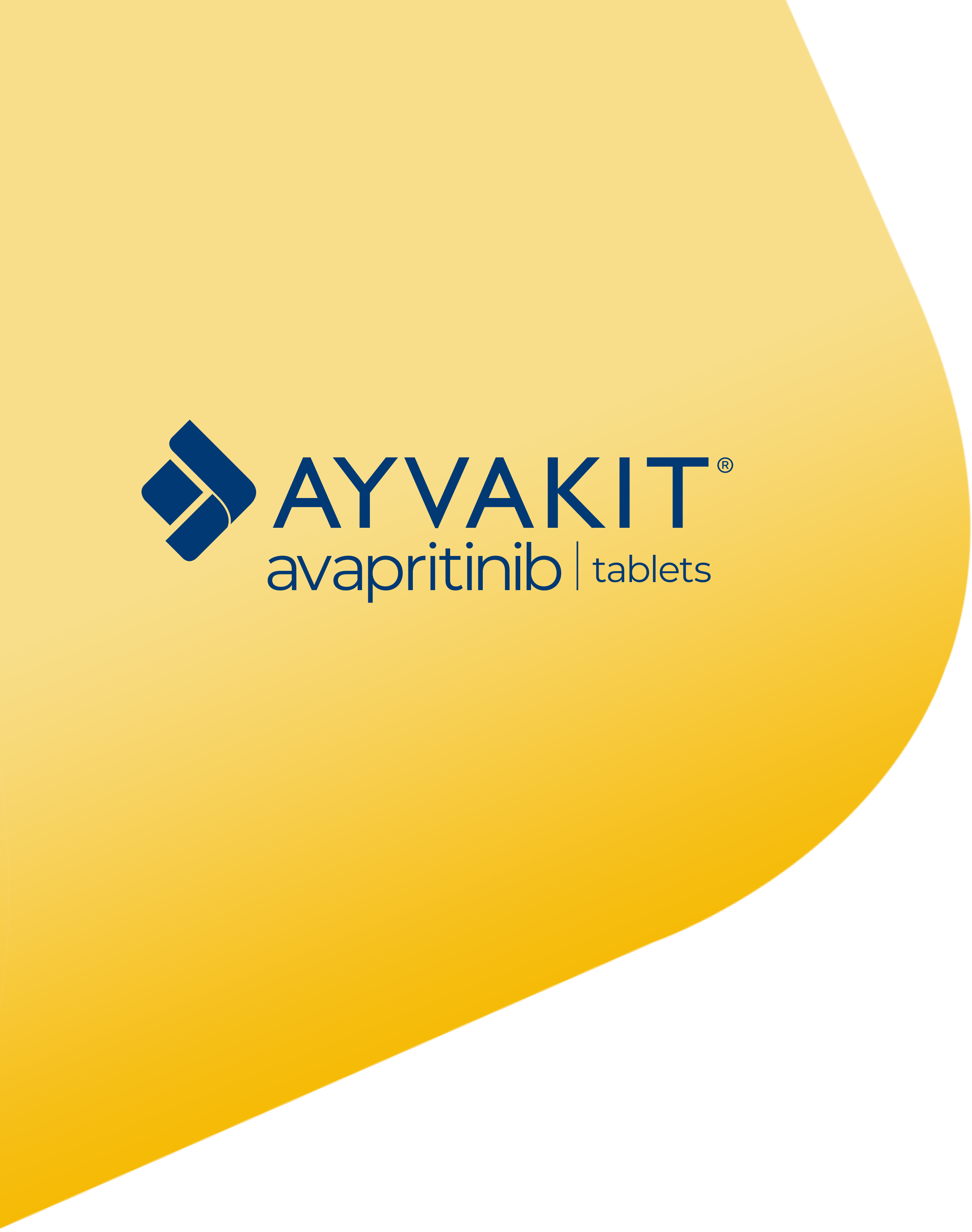 FDA Approved for GIST
AYVAKIT® (avapritinib): the first tyrosine kinase inhibitor (TKI) for adults with a gastrointestinal stromal tumor (GIST) who have a PDGFRA exon 18 mutation.1
AYVAKIT selectively targets KIT and PDGFRA mutant kinases, the primary drivers of GIST.1,2


Get more information to see if AYVAKIT is right for your patients.
Contact Us
What is AYVAKIT?
AYVAKIT is a kinase inhibitor indicated for the treatment of adults with unresectable or metastatic GIST harboring a platelet-derived growth factor receptor alpha (PDGFRA) exon 18 mutation, including PDGFRA D842V mutations.1
NCCN Clinical Practice Guidelines in Oncology (NCCN Guidelines®) recommend mutational testing for all patients with GIST prior to initiation of TKI therapy.3,4
Lines of TKI Treatment in GIST
Resectable GIST*
Neoadjuvant
therapy
Adjuvant
therapy
*AYVAKIT is not approved for patients with resectable GIST.
Unresectable or
Metastatic GIST


APPROVED FOR USE IN PATIENTS WITH PDGFRA EXON 18 MUTANT GIST, INCLUDING PATIENTS WITH THE PDGFRA D842V MUTATION
NCCN=National Comprehensive Cancer Network.

Individual results may vary.
AYVAKIT Resources
The following downloadable materials are here to help provide education for you and your patients on AYVAKIT.
FOR YOU AND YOUR STAFF
 
FOR YOUR PATIENTS/
CAREGIVERS
These materials are intended for digital use only. If you decide to print them, please be sure to print and attach a copy of the full Prescribing Information as well.
YourBlueprint® provides dedicated, personalized support to help your patients from Day 1. Blueprint Medicines offers a series of programs to support patient access, including:
Co-pay Support
Patient Assistance Program
Quick Start
Prior Authorization Support
Coverage Interruption
Enroll your patients at time of prescription to support the patient experience and access to programs.
ACCESS SUPPORT

Connect with Blueprint Medicines
For more information about AYVAKIT and to speak to a representative from Blueprint Medicines, please complete this form:
All fields required unless otherwise noted.